Agent Torrey
Biographical Information
Real Name

Connor Torrey

Citizenship

United States

Identity

Public

Date of Birth

June 15, 1972

Classification

Normal Human

Physical Description
Race

Caucasian

Gender

Male

Height

6'0"

Hair Color

Blonde/Light Brown

Eye Color

Green

Personal Information
Allies
Known Powers

None

Weapons

Pistol

Fighting Styles

Mixed Martial Arts
Kickboxing

Professions

Government agent

Political Information
Position / Rank

Agent

Current Affiliation
Exodus Information
Creator
NPC

Yes, with permission
"You wanted to go through the looking glass. How was it? Was it more fun than miniature golf?"
— Agent Torrey
Agent Connor Torrey was a predominant member of the United States Central Intelligence Agency. Though he was the usual choice to pair with the mutant Wolverine when necessity called for Wolverine to work with a partner on a case, Agent Torrey was frequently assigned field work separate from the other.
Skills and Abilities
Edit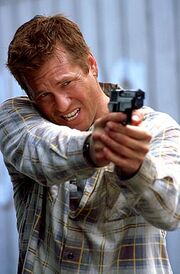 Community content is available under
CC-BY-SA
unless otherwise noted.