Cyber
Biographical Information
Identity

Secret

Criminal Record

None

Classification

Alpha Mutant

Physical Description
Race
Gender

Male

Height

6'3"

Weight

190 lbs

Hair Color

Brown

Eye Color

Brown

Personal Information
Known Powers

See "Powers"

Known Abilities

See "Abilities"

Fighting Styles

Personal

Education

College Graduate

Political Information
Exodus Information
Creator
NPC

No
Biography
[
]
Early History
[
]
Information Coming Soon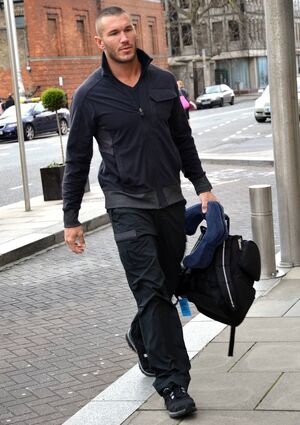 Powers
[
]
Regenerative Healing Factor: Cyber possessed an accelerated healing factor that enabled him to regenerate damaged or destroyed tissue with much greater speed and efficiency than an ordinary human. This healing factor, while similar to that possessed by Wolverine and Sabretooth, wasn't nearly as efficient as Cyber wasn't able to regenerate missing limbs or organs. His accelerated healing powers were what enabled him to survive the process which bonded Adamantium to his skin.
Resistance To Disease: Cyber's healing powers afforded him a high degree, if not total immunity, against all known diseases.
Suppressed Aging: Aside it's unique regenerative qualities, Cyber's healing factor caused him to age much slower than an ordinary human. He retains the appearance and vigor of a man in his physical prime.
Superhuman Strength: Cyber was originally enhanced allowing him to lift approximately 2 tons. After being augmented upon having his skin laced with Adamantium, his strength was increased to the point where he could lift at least 10 tons.
'Superhuman Stamina: Cyber's muscles produced considerable less fatigue toxins than the muscles of ordinary humans. He could exert himself at peak capacity for about a day before fatigue began to impair him.
Superhuman Durability: As a result of an unknown procedure, Cyber's skin, with the exception of his face, was infused with Adamantium. As a result, most of Cyber's body was virtually invulnerable to physical injury.
Psionic Powers: Cyber possessed two distinct psionic abilities. The first was the ability to telepathically push individuals to perform acts that they normally would refuse or be morally unable to do. He also possessed the ability to psionically expand his consciousnees, allowing him of tracking a person's specific brain patterns across great distances. The exact range of this ability was never revealed. However, he was capable of using it to track people across Edinburgh, Scotland.
Abilities
[
]
Information Coming Soon