Domino
Biographical Information
Real Name

Daenelle Wilder

Universe
Place of Birth

Berlin, Germany

Citizenship

United States

Identity

Secret

Date of Birth

September 2nd

Classification

Delta Mutant

Physical Description
Race

Human

Gender

Female

Height

5'8"

Weight

120 lbs

Hair Color

Brown/Black

Eye Color

Blue/Brown

Personal Information
Allies
Known Powers
Weapons

Varies

Fighting Styles

Personal

Professions
Political Information
Former Affiliation
Exodus Information
Creator

Mirrodin

NPC

No
Biography
[
]
Early Life
[
]
Information Coming Soon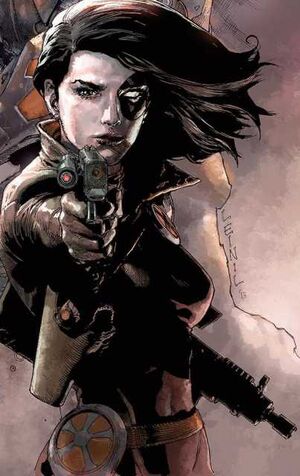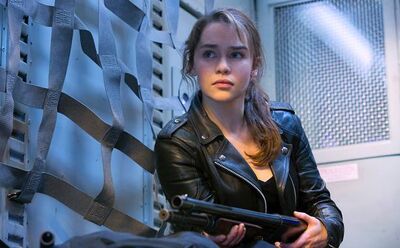 Powers
[
]
Probability Manipulation: Domino is a mutant with the ability to subliminally and psionically initiate random telekinetic acts that affect probability in her favor by making improbable (but not impossible) things to occur within her line of sight, thus causing her to have "good luck" and her opponents to have "bad luck." This phenomenon can be anything from an enemy's equipment failure to hitting just the right switch with a stray shot to shut down an overloading nuclear reactor. The full extent of her powers is still unknown.

This unconsciously controlled talent is triggered when she is in a stressful situation (such as fighting or escaping). This effect constantly emanates from her body at all times and is completely subconscious. However, it is also largely participatory - in order for the luck to take effect, Domino herself must engage in an action whose chance she can affect. She cannot consciously control her ability, Domino can only activate it by putting herself in a position in which she could be harmed. She has shown some level of control over her powers.
For example, if debris falling from the sky was about to hit her in the head, she would still be hurt if she stood still. However, if she tried to avoid them, she would move perfectly to avoid each and every piece about to hit her. In addition if Domino where to stand before a hail of bullets she would be a bullet-ridden corpse. Instead, she must take action; in attempting to avoid the gunfire, she will miraculously bob and weave just right to avoid every single shot.
As a byproduct of her probability abilities, Domino's cerebral cortex emits a current of bio-electric pulses down her spine to instinctively guide her movements during such situations, which has the added effect of augmenting her natural reflexes and agility to near-superhuman levels.
Abilities
[
]
Marksman: Domino is considered the best marksman in Weapon X. She is a superb marksman with a wide variety of firearms.
Demolitions Expert: Domino has extensive training with demolitions and explosives thanks to her years of mercenary work.
Martial Arts: Domino has trained for years in the martial arts and has master a number of different forms of combat, blending them together in a fluid style. She favors counter attacks, which is reinforced by her mutation.
Multi-Lingual: Domino is fluent in English, Spanish, French, German, Afrikaans, and speaks passable Japanese.
Equipment
[
]
Domino employs a wide field of weaponry. Some of the weaponry is experimental technology that she has acquired in her years of work. Most commonly, she uses
Pistols
[
]
SIG-Sauer P228 (9mm)
Smith and Wesson Model 625 (.45 ACP) (Backup)

Rifles
[
]
SIG SG 552 (5.56mm)

Limitations
[
]
Domino's probability manipulation is an incredibly powerful skill. However, in order for her mutation to work, she has to attempt to evade or beat whatever it is that is trying to harm her. Furthermore, if she does not know that it is coming, she can not evade it.