Fury-class Interceptor
Production Information
Manufacturer
Scale

Starfighter

Technical Specifications
Length

100 meters

Width

88 meters

Height

33 meters

MGLT

89 MGLT

Atmospheric Speed

1,200 km/h

Hyperdrive Rating

Class 1

Backup Hyperdrive Rating

Class 6

Shielding

440 SBD

Hull

130 RU

Armament

2 heavy laser cannons

Crew

2

Minimum Crew

1

Passengers

2

Cargo Capacity

20 metric tons

Consumables

3 months

Usage
Roles
Year Introduced

18 ABY (reintroduction)

Affiliation
The Fury-class Interceptor was a starship used by the Sith Empire during the Great Galactic War and its resultant Cold War. It was revived by the Sith Enclave in 18 ABY.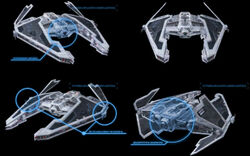 Fury-class interceptors were commonly utilized by prominent Sith Warriors and Sith Sorcerers as their base of operations throughout important missions they were assigned on. For this the interior included a large communications room with a holoprojector, as well as cabins for the ships crew and a conference room.
The bridge was located in the center at the front of the ship. It featured numerous computer panels as well as seats for the pilot and co-pilot all overlooked by the commanding officers seat, in the center of the bridge.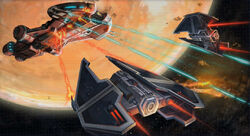 Community content is available under
CC-BY-SA
unless otherwise noted.