Gotham City
Location Information
Country

United States of America

State/Province

New Jersey

General Information
Population

8,168,564

Area

327 square miles (divided among six islands)

Administrative Information
Mayor
District Attorney
Police Commissioner
Exodus Information
Creator
"I see a beautiful city and a brilliant people rising from this abyss. I see the lives for which I lay down my life, peaceful, useful, prosperous and happy. I see that I hold a sanctuary in their hearts, and in the hearts of their descendants, generations hence. It is a far, far better thing that I do, than I have ever done; it is a far, far better rest that I go to than I have ever known."
— Bruce Wayne
"As if Hell came sprouting out of the concrete and kept right on growing"
— Unknown
Description
Edit
Gotham City is one of the largest cities in the United States. A massive metropolis of closely built skyscrapers and other incredible feats of architecture, it is an incredible sight to behold. Even during the day Gotham is a very dark city. A city that is filled with crime and corruption, the crime levels have been on a steady rise ever since the untimely demise of Bruce Wayne, who was the original Batman, a few years before the Chrell Invasion.
Points of Interest
Edit
Neighborhoods
Edit
Parks & Recreational Areas
Edit
Gotham Central Park
Gotham Stadium (Gotham Goliaths (MLB))
Gotham Heights Stadium (Gotham City Eagles (MLB))
Calrose Stadium (Gotham Guardsmen (NBA))
Wayne Enterprises Field at Gotham Harbor (Gotham Rogues (EFL))
Businesses
Edit
Hospitals
Edit
St. Catherine's Hospital
Gotham General
Law Enforcement
Edit
Gotham Museum of the Arts
Gotham Historical Museum
Gotham Institute
Gotham Gazette
Gotham Broadcasting Center (GBC)
Restaurants/Nightclubs
Edit
Pad Gotham (Thai)
McCauley's (Irish)
Zone Eight (Various/American)
B-15 (Nightclub)
Miscellaneous
Edit
Batcave (Unknown to All)
St. Francis Home for Girls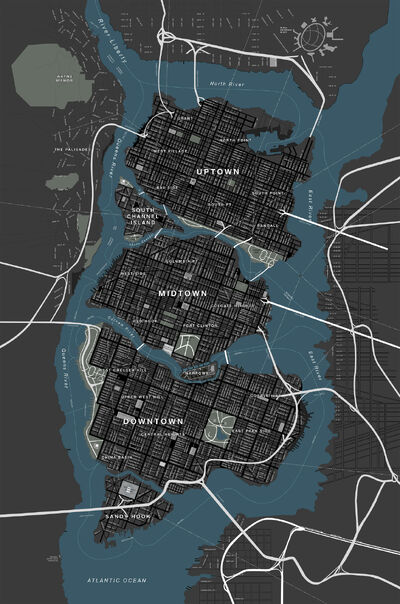 A list of prominent heroes who have at one time or another made Gotham City their base of operations.
A list of prominent villains who have made Gotham City their base of operations.
History (Post-Chrell)
Edit
Information Coming Soon
The following is a list of thread where Gotham City has been used as a setting or some action has happened.
Active Threads
Edit
Batman
Batman: Gotham City Police Department
Batman: Streets of Gotham
Avengers: An Evening in Gotham
Batman/Red Arrow: Welcome to Wonderland

Past Threads
Edit
Genesis: Let Him Take Flight Once More
Batman: Bridging the Gap
Batman: Road to War
Batman/Supergirl: Flyby
Batman: Thanksgiving
Sins of the Past, Demons of the Present

Community content is available under
CC-BY-SA
unless otherwise noted.