HWK-290
Production Information
Manufacturer
Product Line

Hawk series

Model

HWK-290

Scale

Light Freighter

Technical Specifications
Length

29 meters

Maximum Acceleration

8 MGLT/s

MGLT

96 MGLT

Maneuverability

70 DPF

Hyperdrive Rating

Class 2.0

Shielding

124 SBD

Hull

68 RU

Armament

None

Crew
Minimum Crew

1

Passengers

6

Cargo Capacity

150 metric tons

Consumables

6 months

Usage
Roles

Transport
Boarding Craft
Scout

Affiliation

Various
The HWK-290 was manufactured by the Corellian Engineering Corporation during the decades leading up to the Battle of Naboo. It measured twenty-nine meters in length, the HWK-290 resembled the head of a large raptor, and required a pilot and co-pilot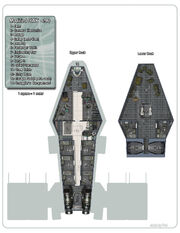 to operate. The freighter could accommodate up to six passengers and 150 metric tons of cargo. The ships were produced without armament; they used speed and maneuverability to escape most situations.
The most famous of the series was the Moldy Crow, a heavily modified HWK-290 freighter used by Kyle Katarn. Other notable examples included Jaylin Kumar's Nomad's Pride and Alvis Cato's Curved Beak.
During the Galactic Civil War the Rebel Alliance modified these types of freighters to be able to carry incendiary bombs which proved effective against large crowds of enemy foot soldiers. This was displayed in the new Star Wars Commander mobile Strategy Game.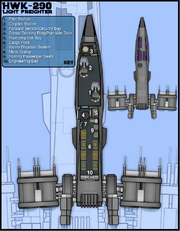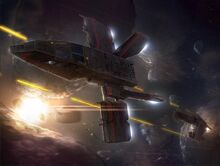 Sources
[
]
Canonical information courtesy of Wookieepedia. Additional statistics based on Phoenix Rising's game model.
Stats are subject to change.
[

]
[

]