Kali Skywalker
Biographical Information
Homeworld

Glee Anselm

Date of Birth

10 BBY

Physical Description
Species

Nautolan

Gender

Female

Height

5'2"

Eye Color

Black

Personal Information
Allies
Lightsider Information
Title

Jedi Master

Type

Jedi Consular

Former Masters
Former Students
Lightsaber Information
Lightsaber Types

Makashi hilt

Lightsaber Colors

Red

Mastered Lightsaber Styles
Proficient Lightsaber Styles
Limited Lightsaber Styles
Political Information
Other Titles

Temple Headmaster, Ossus

Former Affiliation
Current Affiliation
Exodus Information
Creator
NPC

Yes
Kali Skywalker, born Kali Suur, is a Jedi Master and experienced negotiator. She is the headmaster of the Jedi Temple on Ossus.
Orphaned at a young age, Kali was discovered by AgriCorps fugitive Holt Charnil, who took her as his apprentice in Wild Space, somewhat prior to the Battle of Yavin. After the death of the Emperor, Charnil and Kali joined the reorganized Jedi Order, where Kali met Dall Skywalker (no relation to Luke), a human male. They married young, prior to Knighthood.
Dall was killed fighting the Xen'Chi, and Kali threw herself into her work, becoming an expert Consular and knighting her Padawan, Mahana Sira, a friend of Ashin Varanin. She hunted Vahla pirates, and joined the Sojourn expedition to study from various Force-using groups.
In late 17 ABY, Ember Rekali convinced her to help create the Temple of the Current. As public relations chief, she liaised with representatives of other Force groups and other bodies. She stuck with it until it became the new Jedi Temple on Ossus, and helped ease its transition after the disappearance of both Ember and his wife Brembla Kol-Rekali. Shortly thereafter, she was promoted to Jedi Master and Headmaster of the Temple.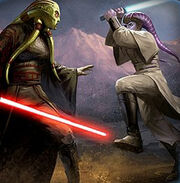 Abilities and Personality
Edit
Kali has seen combat against the Empire, the Xen'Chi, and several pirate groups. She has killed two Chosen, and trained with the Zeison Sha during the Sojourn. She is a telekinetic genius.
Kali is helpful and gentle. She speaks Basic well, but anyone can tell it's not her first language.
Community content is available under
CC-BY-SA
unless otherwise noted.