Mockingbird
Biographical Information
Real Name

Tara Campbell

Place of Birth

Los Angeles, California

Citizenship

United States of America

Identity

Secret

Classification

Human Prime

Physical Description
Gender

Female

Height

5'9"

Weight

130 lbs

Hair Color

Blond

Eye Color

Green

Personal Information
Allies
Education

College Graduate

Political Information
Current Affiliation
Exodus Information
Creator
NPC

No
Biography
[
]
Coming Soon!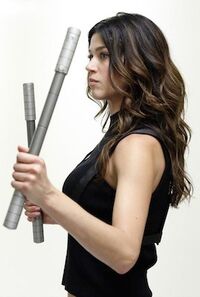 Abilities
[
]
Master Martial Artist: Tara is skilled in multiple martial arts and several forms of hand-to-hand combat, including kung fu and Tae Kwon Do. She is known to be extremely dangerous when fighting in close quarters. She is also familiar with a wide range of weaponry.
Weapons Master: She is a master of many different weapons. Among the known are Okinawan Sai, katanas, knives, sansetsukon (3-sectional staff), and (shuriken) throwing stars. She is most proficient with eskrima sticks which are her usual weapon of choice.
Peak Human Physical Conditioning: Tara is an Olympic-level athlete and gymnast.
Skilled Spy: Mockingbird is well-versed in espionage. She also speaks fluent Spanish, Russian, and French.
Skilled Acrobat: She is an excellent acrobat capable of many difficult feats.
Expert Marksman: Tara is skilled with throwing weapons and sharpshooting.
Limitations
[
]
Mockingbird is susceptible to all human vulnerabilities.