Quake
Biographical Information
Real Name

Chloe Sutter

Place of Birth

Portland, Oregon

Citizenship

United States of America

Identity

Known to Authorities

Classification

Super Being

Physical Description
Race
Gender

Female

Height

5'6"

Weight

115 lbs

Hair Color

Black

Eye Color

Blue

Personal Information
Education

College Graduate

Political Information
Current Affiliation
Exodus Information
Creator
NPC

No
Coming Soon!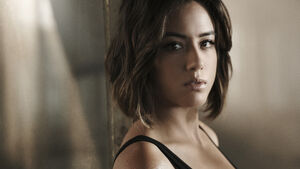 Inhuman Metabolism: Besides strength, Chloe possesses certain physical skills superior to those of human athletes. Her Inhuman metabolism affords her slightly greater reaction time, endurance, and speed than the human race's most perfect physical specimen, Captain America.

Enhanced Reflexes
Enhanced Endurance
Enhanced Speed
Enhanced Strength
Seismic Energy Manipulation: Chloe is able to generate powerful waves of vibrations which can produce effects resembling those of earthquakes. Her training under Fury enables her to target her seismic waves with pinpoint accuracy, causing targeted objects to vibrate themselves apart, from the inside out. This is shown in her being able to prevent the detonation of an antimatter bomb implanted in the body of Lucia von Bardas by destroying its power supply, and exploding the heart of Wolverine while in his chest, to halt an enraged attack on S.H.I.E.L.D. Director Nick Fury.
Seismic Energy Immunity: She is immune to any harmful effects of the vibrations she creates.
Psi-Shields: She also has or was given a form of psychic shielding.
Chloe is susceptible to all human vulnerabilities.
Community content is available under
CC-BY-SA
unless otherwise noted.