RABD Combined Defense Forces
General Information
Leaders

Director of the Combined Defense Forces

Headquarters

Borleias

Locations

Various

Historical Information
Formed From

04 ABY

Founding Date

06 ABY

Other Information
Affiliation
Exodus Information
Creator
The Combined Defense Forces were formed sometime between 04 ABY and 06 ABY out of a mixture of former Imperial forces as well as local planetary defense fleets/militias. It would take the Dominion several years to successfully meet the stringent requirements of the Galactic Concordance Treaty, along with the Instruments of Imperial Surrender. One of the largest obstacles was undoubtedly the outright banning of the Imperial Stormtrooper Corps which made up the vast majority of the former Empires military might. Thankfully, one of the more prominent founders of the Dominion had previously held a prestigious position within COMPNOR, and as such was able to recruit a large portion of the now mostly defunct CompForce to bolster their ranks.
Closure of the Imperial Academies across the galaxy, another term of surrender, also meant that the Dominion and other Imperial Remnant groups were forced to create entirely new training facilities and doctrine, or in some cases hire out to already established facilities to retrain current members or to train the next generation. In both an effort to distance itself from the Empire of old, as well as simply a result of the dire circumstances it found itself in, the Dominion's Defense Forces abandoned the chauvinistic and xenophobic tendencies of the Galactic Empire and instead allowed and encouraged both female and non-human citizens to volunteer for service.
Some notable sources of alternative training included the Corporate Sector Authority, the Natori Association and the Vertigo Company.
Space Command, or SpaceCom for short, consists of the main branch Star Fleet, as well as sub-branchs of Starfighter Corps, Fleet Marine Corps, and Orbital Defense Corps. SpaceCom's mission is to maintain security and superiority of space within the Dominion's borders.
Starfleet
The largest and most powerful branch of the CDF, Starfleet also oversee's three sub-branches, the Starfighter, Fleet Marine, and Orbital Defense Corps. Starfleet is overseen by the Admiral of the Starfleet.The RABD Starfleet is composed of a wide amalgamation of starship types, classes, and manufacturers both new and old. It is primarily divided up into 6 specific fleet types:
Quick Reaction Fleet
System Defense Fleets
Intra-Sector Defense Fleets
Planetary Defense Fleets
Positional Defense Fleets
Intra-Sector Border Patrol Fleets.

Most of these Fleets, with the exception of Border Patrol Fleets, are commanded by an Admiral or Grand Admiral with the honorific title of Fleet Admiral superseding that individual officers official rank.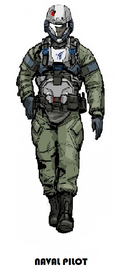 Starfighter Corps
The Starfighter Corps is led by the Marshal of the Starfighter Corps, who reports directly to the Admiral of the Starfleet. This Corps is divided into three separate functions:
Fleet Service
Orbital Defense Service
Planetary Defense Service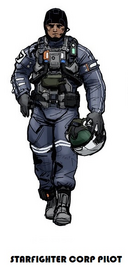 Fleet Marine Corps
Fleet Marines are solely responsible for space and expeditionary operations. The Corps is led by the General of The Marines, who reports directly to the Admiral of the Starfleet. Marines are stationed aboard Fleet vessels and provide internal security, defense, and offensive capabilities as necessary.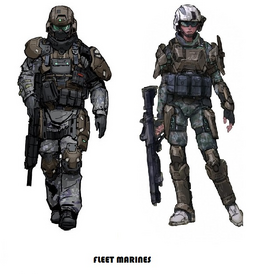 Orbital Defense Corps
A specialized Corps of starfleet, the Orbital Defense Corp is tasked with defending the space around Dominion held worlds and is most often stationed aboard orbital defense platforms and small picket and/or anti-piracy vessels. The Orbital Defense Corp is led by the Marshall of Orbital Defense, who reports directly to the Admiral of the Starfleet. They share the same organizational chart as the Fleet Marines, Army, and Planetary Guard.
Ground Command, or GroundCom for short, consists of the main branch Army as well as the sub-branch of the Planetary Guard. GroundCom's mission is to provide safety, security, and order on all Dominion aligned worlds, as well as to supplement the Fleet Marine Corps as a ground force multiplier when needed.
Army
The RABD Army's primary mission is the security and defense of all the Dominion's terrestrial holdings. They are led by the General of the Army and are the primary branch of GroundCom. The Army primarily operates out of ground based complexes dispersed strategically across the worlds of the Borleian Dominion.
The Army, though, also executes a secondary mission of supplementing the Fleet Marine Corps on terrestrial missions and as such there are regularly unit's embarked aboard Starfleet Vessels.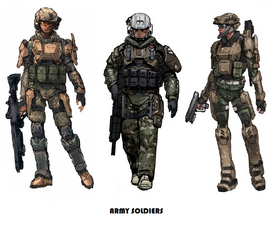 Planetary Guard
The Planetary Guard receives much of the same training as their Army counterparts, but their mission is focused more on civil order and security, rather than positional defense. The Guard integrates with local planetary government and civil authorities to provide security and law enforcement to the citizens of the Dominion. In addition to the standard army training, they undergo further specialization in law enforcement and cultural integration so that they can more effectively integrate into the local societies they find themselves stationed in.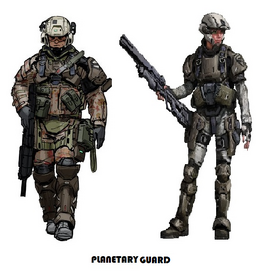 Defense Intelligence Service

[

edit

|

edit source

]
The Defense Intelligence Service (DIS) is the umbrella title for the Dominion's various intelligence agencies and organizations. It was created shortly after the formal establishment of the Dominion and organized within the Combined Defense Forces for ease of oversight and integration within the other branches of the defense force. It's most notable divisions include the Bureau of Special Tactics which represents the Borleian Dominion's special forces capabilities, and the Defense Advanced Projects Service which operates as the Dominion's military research and development department.
Bureau of Special Tactics
The Bureau of Special Tactics (BST), more informally known as 'The Beast' is the premier special forces organization of the Borleian Dominion. It is led by the Director of the Bureau of Special Tactics and recruits it's members from the other branches of the Combined Defense Force. Special Tactics Commando's are the most highly trained and specialized military asset's the Borleian Dominion has at it's disposal. As such, potential recruits to The Beast must first achieve the rank of E-3 or above in one of the other branches of service and catch the attention of a Defense Intelligence Service recruiter. After being invited to apply to the Bureau, recruits undergo a rigorous selection process and if they make the cut they will then undergo years of intensive special forces training.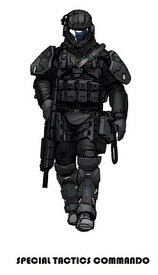 Defense Advanced Projects Service
The Defense Advanced Projects Service (DAPS) isn't a direct military asset, but rather the Dominion's primary military research and development division, However, in an effort to streamline the interface between materiel procurement - research - development -testing - and deployment it was organized as part of the Defense Intelligence Service, which in turn is positioned directly within the Dominion's Combined Defense Forces. DAPS is responsible for both investigating, approving, and procuring of existing technology and materiel - as well as researching, inventing, and developing new equipment and technology for the Dominion's military. They are the sole organization responsible for procurement and deployment of military hardware to the various branches of service.
The Starfighter Corps is grouped into the following Unit Types:

| SYMBOL | TITLE | NATURE | STRENGHT | CONSTITUENT UNITS | COMMANDER |
| --- | --- | --- | --- | --- | --- |
| XX | CORPS | COMMAND | - | | 0-9 |
| X | GROUP | FORMATION | - | ENTIRE COMPLIMENT ASSIGNED TO A STARSHIP, ORBITAL STATION, OR LAND BASED FACILITY REGARDLESS OF STRENGTH | - |
| ••• | WING | UNIT | 72 | 6 SQUADRONS | 0-6+ |
| •• | SQUADRON | UNIT | 12 | 3 FLIGHTS | 0-3 - 0-5 |
| • | FLIGHT | SUB-UNIT | 4 | - | 0-1 - 02 |
The Fleet Marine Corps, Orbital Defense Corps, Army, and Planetary Guard are all broken down by the following Unit Types:

| SYMBOL | TITLE | NATURE | STRENGTH | CONSTITUENT UNITS | COMMANDER |
| --- | --- | --- | --- | --- | --- |
| XXX | CORPS | COMMAND | - | MULTIPLE LEGIONS | 0-9 |
| XX | LEGION | FORMATION | 7072 | 2 BRIGADES | 0-8 |
| X | BRIGADE | FORMATION | 3532 | 2 REGIMENTS | 0-7 |
| III | REGIMENT | FORMATION | 1755-2630+ | 2 BATTALIONS OR 3+ GROUPS | 0-6/E-8** |
| II | BATTALION | UNIT | 874 | 2 GROUPS | 0-5/E-8* |
| I | GROUP | UNIT | 430 | 3 COMPANIES | 0-3/E-8 |
| ••• | COMPANY | SUB-UNIT | 140 | 4 PLATOONS | 0-3/E-7 |
| •• | PLATOON | SUB SUB-UNIT | 34 | 4 SQUADS | 0-1/E-5 |
| • | SQUAD | - | 8 | 2 FIRETEAMS | E-4 |
| Ø | FIRETEAM | - | 4 | - | E-2 |
SpaceCom Rank Structures
CODE
STARFLEET
STARFIGHTER CORPS
FLEET MARINES
ORBITAL DEFENSE CORPS
0-9
ADMIRAL OF THE STARFLEET
MARSHAL OF THE STARFIGHTER CORPS
GENERAL OF THE MARINES
MARSHAL OF ORBITAL DEFNESE
0-8
ADMIRAL
MARSHAL
GENERAL
CHIEF-MARSHAL
0-7
VICE ADMIRAL
VICE-MARSHAL
MAJOR GENERAL
MARSHAL
0-6
REAR ADMIRAL
COMMODORE/WING COMMANDER
COLONEL
VICE-MARSHAL
0-5
CAPTAIN
CAPTAIN
LT. COLONEL
COMMODORE
0-4
LT. COMMANDER
COMMANDER
MAJOR
VICE-COMMODORE
0-3
COMMANDER
LT. COMMANDER
CAPTAIN
CAPTAIN
0-2
1ST. LT.
1ST. LT.
1ST. LT.
1ST. LT.
0-1
2ND. LT.
2ND. LT.
2ND. LT.
2ND. LT.
E-8
MASTER CHIEF PETTY OFFICER
FLIGHT OFFICER
SERGEANT MAJOR
MASTER CHIEF PETTY OFFICER
E-7
CHIEF PETTY OFFICER
CADET
FIRST SERGEANT
CHIEF PETTY OFFICER
E-6
PETTY OFFICER 1ST. CLASS
-
SERGEANT FIRST CLASS
PETTY OFFICER 1ST. CLASS
E-5
PETTY OFFICER 2ND. CLASS
-
STAFF SERGEANT
PETTY OFFICER 2ND. CLASS
E-4
PETTY OFFICER 3RD. CLASS
-
SERGEANT
PETTY OFFICER 3RD. CLASS
E-3
SENIOR FLEETSMAN
-
CORPORAL
SENIOR FLEETSMAN
E-2
FLEETSMAN
-
LANCE CORPORAL
FLEETSMAN
E-1
CADET
-
PRIVATE
CA
GroundCom and Defense Intelligence Service Rank Structures
CODE
ARMY
PLANETARY GUARD
BUREAU OF SPECIAL TACTICS
0-9
GENERAL OF THE ARMY
MARSHAL OF THE PLANETARY GUARD
DIRECTOR OF THE BEREAU OF SPECIAL TACTICS
0-8
GENERAL
CHIEF-MARSHAL
DEPUTY DIRECTOR
0-7
MARSHAL
MAJOR GENERAL
MARSHAL
0-6
COLONEL
VICE-MARSHAL
VICE-ADMIRAL
0-5
LT. COLONEL
COMMODORE
CAPTAIN
0-4
MAJOR
VICE-COMMODORE
COMMANDER
0-3
CAPTAIN
CAPTAIN
LT. COMMANDER
0-2
1ST. LT.
1ST. LT.
1ST. LT.
0-1
2ND. LT.
2ND. LT.
2ND. LT.
E-8
SERGEANT MAJOR
SERGEANT MAJOR
CHIEF-MASTER SERGEANT
E-7
FIRST SERGEANT
FIRST SERGEANT
SENIOR MASTER SERGEANT
E-6
SERGEANT FIRST CLASS
SERGEANT FIRST CLASS
MASTER SERGEANT
E-5
STAFF SERGEANT
STAFF SERGEANT
TECHNICAL SERGEANT
E-4
SERGEANT
SERGEANT
STAFF SERGEANT
E-3
CORPORAL
CORPORAL
CORPORAL
E-2
LANCE CORPORAL
LANCE CORPORAL
-
E-1
PRIVATE
PRIVATE
-
Community content is available under
CC-BY-SA
unless otherwise noted.