Revak
Biographical Information
Real Name

Revak

Identity

Public

Criminal Record

Extensive

Classification

Non-Human

Physical Description
Race

Chrell

Gender

Male

Height

6'3"

Weight

225 lbs

Hair Color

Black

Personal Information
Enemies
Professions

Conqueror, Chrell Fleet Commander (formerly)

Political Information
Former Affiliation

Chrell Empire

Exodus Information
Creator
NPC

No
Biography
Edit
First Encounter
Edit
"I am here to take vengeance in the name of the Chrell! I will finish what my fleet started so long ago!"
— General Revak
Little is known about Revak. Once he was a Chrell general that led forces against the heroes of Earth. During the final battle in space he somehow cloned a body of Superman and forced his consciousness into it. He returned from an unknown location several years after the Chrell invasion. He fought a group of new heroes including Iron Man, Daredevil, Arsenal, and several others. Though he was defeated by the group and forced into the Phantom Zone everyone knows it is only a matter of time before he returns.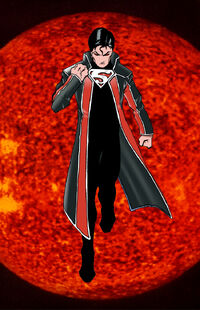 Avengers: Invasion
Edit
"Kneel before your new Lord. Kneel before Revak!"
— General Revak
Coming Soon!
Current Powers
Edit
Coming Soon!
Former Powers
Edit
Note: These were the powers Revak displayed while in his cloned Kryptonian body.
Super Strength: Able to lift in excess of 100 tons
Invulnerability: Able to withstand low yield nuclear explosions
Superhuman Stamina: Has the ability to maintain continuous strenuous physical action for an undefined period
Flight: Able to fly and maneuver at supersonic speeds
Superhuman Speed: Able to run and maneuver at supersonic speeds
X-Ray Vision: Has the ability to see through anything except lead
Heat Vision: The ability to fire beams of intense heat at a target by looking at it with the conscious act of activating this power
Superhuman Hearing: The ability to hear any sound at any volume or pitch
Super Breath: The ability to create hurricane force winds by blowing, and to chill his breath in order to freeze a target
Weaknesses
Edit
Coming Soon!
Community content is available under
CC-BY-SA
unless otherwise noted.