Shadowcat
Biographical Information
Real Name

Ariana Mitchell

Place of Birth

Raleigh, North Carolina

Citizenship

United States of America

Known Aliases

None

Criminal Record

Yes

Classification

Alpha Mutant

Physical Description
Race

Human

Gender

Female

Height

5'7

Weight

125 lbs.

Hair Color

Brown

Eye Color

Brown

Personal Information
Known Relatives

Tristan LeBlanc (Cousin)


Known Powers

See Powers

Known Abilities

See Abilities

Education

Some High School

Political Information
Exodus Information
Creator
NPC

No
Biography
[
]
Early Life
[
]
Information Coming Soon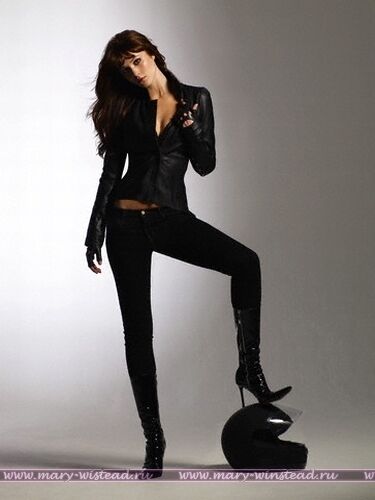 Powers
[
]
Phasing/Intangibility: Shadowcat possessed the ability to pass through solid matter and objects by passing her atoms through the spaces between the atoms of the object through which she was moving. In this way she and the object through which she was passing could temporarily merge without interacting, and each was unharmed when Shadowcat had finished passing through the object. This process was called "phasing." When Shadowcat was phasing, she was, for all intents and purposes, intangible. Hence, when attacked, she could shift into a "phasing" state (even if she was not at the time passing through an object) so as to allow oncoming projectiles or energy blasts to pass through her harmlessly. Shadowcat passed through objects at the same rate of speed at which she was moving before she "entered" it.
Selective Intangibility: Allows others to become intangible and make other objects intangible by making them pass through other massive solid objects easily such as buildings, planes, and trains.
Elemental Intangibility: Allow elemental attacks to pass harmlessly through her such as water, fire, earth, air, energy, electricity, and even lightning.
Physical Disruption: Ariana can easily damage tangible matter by passing right through it.
Non-Corporeal Physiology: Ariana's intangibility abilities make her practically untouchable.
Air & Water Walking: Using her phasing/intangibility ability, Shadowcat can freely walk on both air and water. In fact, she could use her ability to walk on water and the air from the ground to the upper stories of a building as if she were climbing a staircase.
Phasing/Intangibility Extension: From the first use of her phasing power, Shadowcat was able to phase her clothing along with herself. Through practice she learned to phase other objects along with herself without harm to them, and at one point phased an entire group of people. However, she had to maintain physical contact with the people or objects she phased along with herself for the effect to work with this other person or object.
Camouflage: Ariana can easily bend into the colors of her immediate surroundings and environments, practically making her invisible to anything seen to the naked eye.
Shadow Camouflage: Shadowcat can also become completely invisible and unseen in shadows.
Electronic Disruption: She could phase through any material object, even living people. When she phased through an object with an electrical system, the process disrupted the system's workings.
Telepathic Resistance: Her thoughts were highly erratic when phased as if there was no mind to telepathically affect.
Cloaking: Ariana can hide herself and others from any type of optical eyesight.