Siren
Biographical Information
Real Name

Unknown

Place of Birth
Identity

Secret

Classification

Beta Mutant

Physical Description
Race

Siren

Gender

Female

Height

5'5"

Hair Color

Grey

Eye Color

Grey

Personal Information
Allies
Enemies
Known Relatives

Unknown

Known Powers

See Powers

Known Abilities

See Abilities

Political Information
Exodus Information
Creator
NPC

No
Biography
Edit
Coming Soon...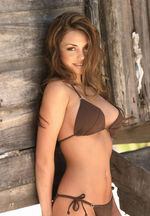 Enhanced Speed: Siren can swim around fifty miles per hour.
Superhuman Strength: Siren can lift around thirty tons while under water.
Superhuman Durability: Siren posses a body unlike most Atlanteans and humans. Tough muscle protects her from the depths of the ocean. In addition she is able to withstand mighty blows that would kill a mortal.
Enhanced Stamina: Her body eliminates the excessive build-up of fatigue-producing poisons in her muscles, granting her phenomenal endurance. She can exert himself at peak capacity for nearly a day without rest before showing any signs of fatigue.
Enhanced Agility: Sirens's agility is superior to that of any human and most Atlanteans.
Enhanced Reflexes: Sirens's reflexes are superior to that of any human and most Atlanteans.
Hypnotism: Siren can use her powers to make anyone follow her whims. Through eye contact she is able to incapacitate any male and when she speaks she is able to control their will commanding her to do as she pleases.
Underwater Breathing: Siren can breathe underwater as though it was air.
Shape-shifting: Siren can change from her hideous true form to both a beautiful Atlantean or Human form. in addition she had the fourth transition form between humanoid and her fish like state that resembles closely a mermaid.
Abilities
Edit
Siren is a master of subterfuge and manipulation and will use these talents whenever possible to confuse her opponents.
Limitations
Edit
Siren has all human vulnerabilities and will become weaker when out of water for too long.
Community content is available under
CC-BY-SA
unless otherwise noted.