Skyspirit-class Courier
Production Information
Manufacturer

Kuat Systems Engineering, Kuat Drive Yards

Scale

Subcapital

Technical Specifications
Length

25.4 Meters

MGLT

100 MGLT

Hyperdrive Rating

Class 0.5

Shielding

220 SBD

Hull

112 RU

Armament

2 Retractable Laser Cannons

Crew

1

Passengers

6

Cargo Capacity

30 metric tons

Consumables

1 Month

Usage
Affiliation
Exodus Information
Creator

Halcyon508
A homage to the consular vessels of old, the Skyspirit-class Courier fills the needs of Republic diplomats, Jedi ambassadors, and many others. Its utilitarian comfort, easy adaptability and reasonable price make it a high seller in the diplomatic and political world. It is frequently used by members of the Jedi Council, and the Ossus Jedi Temple maintains several.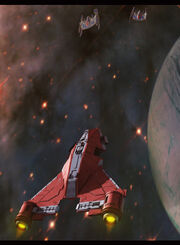 The vessel was designed by Kuat Systems Engineering to work as a Courier ship. The vessel forgoes the usual cargo space for a ship of its size and heavier weapon systems in favor of speed and comfort for its passengers. The vessel is easily upgradeable taking ques from the highly successful Firespray vessel. Each of the Jedi purchased variants of this craft included three RedEye Probe Droids for reconnaissance which were slaved to the ships main .
The Anari Commonwealth and the Antarian Rangers purchased a number of these vessels and modified them for use as law enforcement and interdiction vessels equipping them with holding cells.