Stargril
Biographical Information
Real Name

Cassandra Howard

Universe
Place of Birth
Citizenship

American

Known Aliases

Cassy Howard
Cassie
Cassidy

Identity

Secret

Criminal Record

Yes,minor

Classification

Super Being

Physical Description
Race
Gender

Female

Height

5'7

Weight

110 lbs

Hair Color

Blonde

Eye Color

Blue

Personal Information
Allies
Enemies
Known Relatives
Known Powers

see powers

Weapons

Cosmic Staff

Professions

High School student

Political Information
Position / Rank

Student/Brat sister

Former Affiliation

JLS

Current Affiliation
Exodus Information
Creator
NPC

No
"
"Hi.You know it's not nice to shoot an innocent unarmed person. Even if she's chasing you, you should probably just turn yourself in now.""
— Stargirl to Zumo
(Eath 515) Pure of heart, though she has a wrap sheet, the current Stargil's bravery and heart makes up what she lacks in combat skill. She found the Cosmic Staff which Attuned to her and her only making her the New Stargirl after Cournty Whittmore's body was found by Cassy and her brother James Howard. Since then she has been trying to make amends for past mistakes by helping people, with or without her brothers blessing.
History
[
]
After trav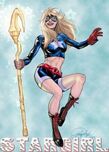 eling with her brother to Egypt and uncovering a lost temple where she found the staff of the original Stargril who died during a cave in at Carter Hall's interment in the temple some 30 years before. It was here James found Cater Halls Hawkman suit. When he removed it a chain reaction was set off causing another cave in. James was able to get the suit on in time to save himself while Cassy grabbed the nearby Cosmic staff (because the though it was made of gold). . . . .
Powers without the Staff
[
]
Cassy has no real power without the staff and is subject to all human weakness. She is well trained in Gymnastics and Mixed Martial Arts. Along with some other unsavory skills she picked up from her friends.
Powers With Staff(DC database)
[
]
Anti-Gravity Field: Focused energy to defy gravity, allowing the wielder and others flight.
Defense Force-Fields: Also used in conjunction with flight to protect against atmospheric damage in high velocity flight.
Energy Blasts
Solid Energy Constructs: Ability to create simple solid energy constructs.
Heat Emission
Attunement: Ability to attune itself to it current wielder; doing so makes it hard for the staff to become attuned to anyone else, easily. Ability to receive mental commands from the wielder from a distance.
Equipment
[
]
[http://dc.wikia.com/wiki/Cosmic_Staff%7CCosmic
]
OOC
[
]
Powers and Equipment off of DC Data baseCourtney Whitmore and Cosmic Staff
Current Threads
[
]