Tanaris Degor
Biographical Information
Physical Description
Species

Human

Gender

Female

Personal Information
Darksider Information
Type

Sith Warrior

Former Masters
Lightsaber Information
Proficient Lightsaber Styles
Political Information
Former Affiliation
Current Affiliation
Exodus Information
Creator
Tanaris Degor was a Jedi Knight-turned-Sith Warrior in service to the Sith Enclave.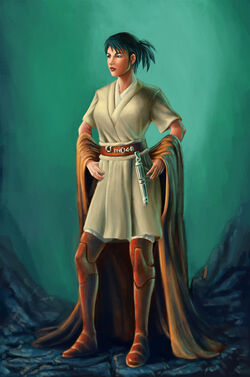 Tanaris Degor became a Jedi Knight in 17 ABY. After finishing her training under Jensi Shen-Jon, she visited the Sabii outpost and was present when it was overrun. She was captured after losing her left arm and right hand in a duel with Sith Lord Darth Kabal.
After being turned by Darth Kabal, her lost limbs were replaced by cybernetics and she was sent to the Sith Academy on Ziost to be trained as a Sith Warrior.
Community content is available under
CC-BY-SA
unless otherwise noted.