Theta-1 Alecer-class Starfighter
Production Information
Manufacturer
Model

Theta-1 Alecer-class

Scale

Small Craft

Cost

190,000

Technical Specifications
Length

6 meters

Width

4.5 meters (wings extended)

Height

2.5 meters

Maximum Acceleration

20 MGLT/s

MGLT

94 MGLT

Atmospheric Speed

1,150 kph

Maneuverability

100 DPF

Hyperdrive Rating

40 SBD

Hull

30 RU

Armament

2 Heavy Laser Cannons
4 Ion Cannons
2 Torpedo Tubes

Complement
Cargo Capacity

60 kg

Consumables

2 Days

Usage
Roles

Patrol
Reconnaissance
Interceptor

Year Introduced
Affiliation
Exodus Information
Creator

Kashusdraith
Theta-1 Alecer-Class starfighter is a rebuilt and rethought Eta-2 Actis-class Light Interceptor and Alpha-3 Nimbus-class V-wing starfighter. The Brotherhood needed a craft that had shield and lightspeed capability. They wanted a starfighter that wasn't dependent on large vessels to move it around. They needed a fighter that could do reconnaissance in enemy territory as well as a good defense fighter for escorting ships coming and going from The Citadel.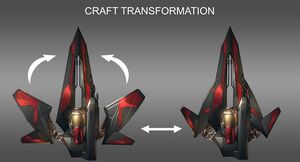 Community content is available under
CC-BY-SA
unless otherwise noted.