Windfall
Production Information
Manufacturer
Model
Modified By
Technical Specifications
System Modifications

Improved Shields
Improved Armament
Improved Engines
Improved Maneuverability
Upgraded Hyperdrive Backup
Added Lightsaber Training Area
Added Medical Bay
Advanced Security System

Length

30.1 meters

MGLT

115 MGLT

Hyperdrive Rating

Class 1

Backup Hyperdrive Rating

Class 5

Shielding

120 SBD

Hull

60 RU

Armament

2 Twin Blaster Cannons (one facing back)
1 Ion Cannon
2 Warhead Launchers

Crew

1 Pilot

Passengers

4

Cargo Capacity

35 Metric Tons

Consumables

5 Weeks

Usage
Roles

Family Transport
Jedi Training
Tracking
Combat

Year Commissioned
Present for Battles/Events
Affiliation
Known Owners
Known Crewmembers
Known Aliases

Windrunner

Exodus Information
Creator
The Windfall was given to Tulsar Leidias as a wedding present by his father. The ship was completely stock when Tulsar received it, but that was soon changed as he and his wife worked on improving the Windfall in every way possible.
One of their very first modifications was the removal of one of the holding cells on the bottom level and the installation of a sparring room where they could practice their lightsaber skills safely. The room is completely lined with a heavy composite armor that resists lightsaber blades. In addition, there are several openings that can dispense remotes, up to 20 at one time.
When Tulsar's son was born, and later his daughter, the Windfall became the family ship and would often ferry the Leidias family from Juoi to other destinations.
That all changed upon the arrival of Sivter to Juoi. After Tulsar's wife and son were killed by the Dark Jedi, the Windfall became Tulsar's ship of choice for hunting Sivter down. He improved the armaments and installed a state-of-the-art security system to better assist his hunt.
The Windfall has served Tulsar faithfully over the years and the Jedi considers the ship an extension of himself. It has seen Tulsar safely through several battles, including some big conflicts such as the Battle of Corellia.
The ship serves as a constant reminder to him of his beloved wife and son and why he can never rest until Sivter is finally destroyed.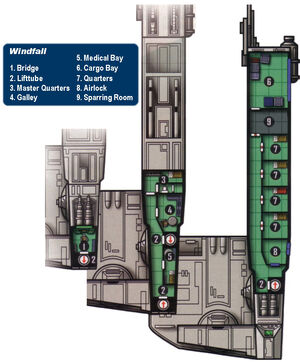 Community content is available under
CC-BY-SA
unless otherwise noted.