Wonder Man
Biographical Information
Real Name

Sean Toretto

Universe
Place of Birth

Brooklyn, New York

Citizenship

United States of America

Criminal Record

None

Date of Birth

Unknown

Classification

Super Being

Physical Description
Race

Caucasian

Gender

Male

Height

6'1"

Weight
Hair Color

Black

Eye Color

Blue

Personal Information
Allies
Known Relatives

Unknown

Fighting Styles

Various

Political Information
Current Affiliation
Exodus Information
Creator
NPC

No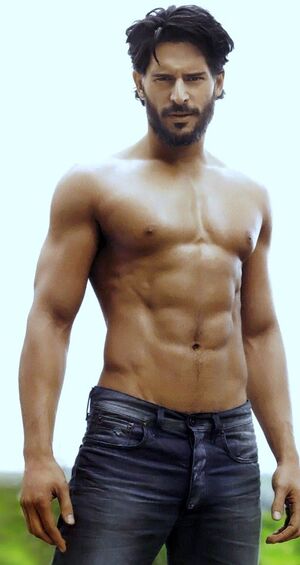 Ionic Energy Form: The tissue and bones of his entire body have been augmented in strength and to a certain extent supplanted by an unknown substance during the "ionic ray" bombardment. He is actually composed of organic matter that is permeated with this form of energy. Its not clear if his external form is ionic energy or flesh. He does not house blood in his body and cannot impregnate women.
Superhuman Strength: Wonder Man possesses vast superhuman strength, the limits of which aren't known, and he can lift well in excess of 100 tons easily. His strength extends into his legs, as he is capable of superhuman leaps covering several hundred feet.
Superhuman Speed: In spite of his great size, Wonder Man can run and move at speeds that are beyond the physical limits of the finest human athlete.
Superhuman Stamina: Sean's ion body grants him unlimited stamina and is therefore immune to fatigue.
Superhuman Durability: Wonder Man's bodily tissues are much harder and far more resistant to physical injury than the bodily tissues of a normal human. Wonder Man is highly resistant to penetration wounds, even from high caliber machine gun shells. He can also withstand tremendous impact forces, such as falling from great heights or being repeatedly struck by superhumanly strong opponents, without being hurt. Wonder Man is also resistant to extremes in temperature, being able to withstand temperatures as low as -150 degrees to as high as 1,500 degrees Fahrenheit without sustaining injury.
Superhuman Agility: Wonder Man's agility, balance, and bodily coordination are all enhanced to levels that are beyond the natural physical limits of even the finest human athlete.
Superhuman Reflexes: Wonder Man's reflexes are similarly enhanced and are superior to those of the finest human athlete.
Superhuman Hearing: Wonder Man's hearing has been enhanced to a superhuman degree.
Energy Vision: Wonder Man can see beyond the usual spectrum visible to the human eye.
Flight: Wonder Man is able to fly through the air at great speeds, the exact limit of which isn't known. Sean has flown at speeds in excess of 700 mph.
Immortality: For all intents and purposes, Wonder Man is functionally immortal. Because of the ionic energy that empowers him, Wonder Man no longer ages and he is immune to disease and infection. This same energy sustains his physical vitality far more efficiently than the biochemical process that sustain ordinary human life. As a result, Wonder Man no longer requires food, water, or oxygen.