Zain Andqus
Biographical Information
Homeworld

Unknown

Date of Birth

~3 BBY

Physical Description
Species

Unknown (Decuri)

Gender

Male

Hair Color

Bald

Eye Color

Crimson (flourescent)

Personal Information
Weapons

Lightsaber

Darksider Information
Title

Sith Neophyte

Type
Lightsaber Information
Lightsaber Types

Dual singlebladed

Lightsaber Colors

Red

Proficient Lightsaber Styles
Political Information
Current Affiliation
Exodus Information
Creator
Zain Andqus was a Sith Neophyte of the Sith Enclave in 17 ABY.
Zain was a rarity in the Sith Enclave. He just showed up at the Covenant Academy on Roon one day in 17 ABY. Orrus de Sadd, though initially inclined to kill him, recognized his potential in the Force, and offered him the chance to become more powerful. Zain immediately accepted, and was enrolled into the Academy on Roon as a Neophyte. After the formation of the Sith Enclave, Zain was made a Sith Neophyte and - like almost everyone else in the Academy - transferred to the Sith Academy on Ziost.
He had a new suit of armour made after his promotion to Neophyte to reflect his status as a Sith.
He participated in the Assault on Sabii.
Personality
Edit
Zain Andqus was a cold-hearted, ambitious and utterly ruthless character, considering other beings - sentient or not - tools. He craved power above all else, and would let nothing or no-one stand in his way.
Powers and abilities
Edit
Immediately upon beginning training, Zain specialized in Ataru and Jar'Kai, wielding two lightsabers at once, proving a prodigy in the art of lightsaber combat.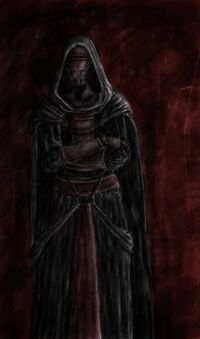 Community content is available under
CC-BY-SA
unless otherwise noted.